Todd "RatedSGames" Schlickbernd is a YouTuber, and an editor of PBGGameplay, particularly
Hardcore
. Todd took over editing from Jeff after
PB&Jeff
started. Todd enjoys making snarky jokes at the player's expense.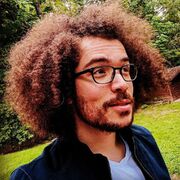 Appearances
Edit
Todd can be heard laughing or talking to Austin on a few episodes. Todd assists in producing PBG's main channel episodes.
Todd helps with PBG's lootcrate in Top 10 Trippiest Video Games . Todd wants PBG to stop singing in Goodwill Games 3 . PBG tells Todd that he wants to go to Ikea in Virtual Reality Games . Todd laughs at PBG trying to sing in Weird Dreams . PBG plays Truth or Lie with Todd in Top 10 Worst Party Games . Todd commentates PBG's basketball skills in Goodwill Games 4 . Todd laughs at a stuck PBG in Zelda Twilight Princess Hacking . Todd hands a Nintendo Classic to PBG in Weird Zelda Commercials . Todd makes a minor appearance at the end of Princess Maker 2 . 
Todd laughs at PBG's outro in Pajama Sam . Todd calls out to PBG at the end of the Zelda Breath of the Wild Review . Todd has to search for PBG in Top 10 BEST Nintendo Wii Games . Todd chases and finds PBG again crying on the street in Top 10 WORST Nintendo Wii Games . Todd is taking picture of PBG in Goodwill Garbage .
Appearances on PBGGameplay
Edit
Todd and fellow editor Jack compete against Jeff and Austin in Nintendo Switch (Part 1)|Bomberman. They later competed again Jeff and Austin in How 2 Button Mash (Part 1)|Mario Party 2 on Horror Land and Luigi's Wish (Part 1)|Mario Party 4 on Shy Guy's Jungle Jam.
Appearances on Hardcore
Edit
Todd is the editor of Hardcore as of Minecraft Season 5 . Todd makes jokes and editor's notices throughout the series.
In Terraria Hardcore 3 , he was heard narrating through off-camera events, before Jeff died. Todd hosted the end of season review episode of Terraria Hardcore 3 and Minecraft Hardcore 6, where he interviewed the participants.
He appears in Minecraft Hardcore Season 6.
Other mentions
Edit
Todd is mentioned on PBGGameplay, when PBG and Jeff are discussing editing, and asking how Todd will edit the video.
Todd is one of PBG's friends who dies in Darkest Dungeon during the Top 10 Worst Video Game Worlds to live in .
Community content is available under
CC-BY-SA
unless otherwise noted.